Merrow MD 4df0 flat overlock
MERROW ACTIVESEAM™ FLAT OVERLOCK
VIOMODAS NEW MB-4DFO is the only machine to sew Merrow's ActiveSeam® for base layer activewear. It has the versatility to all three unique ActiveSeam™ stitches and can be configured for two or three thread sewing.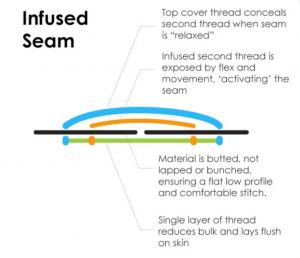 The MB-4DFO sews all three variations of the ActiveSeam stitch. It was specifically developed to sew on base layer garments and the ActiveSeam family of stitches are flat, comfortable, and stretchable stitches that replace traditional flatlock seams. The MB-4DFO stitch width can be varied from 3/32″ to 5/32″ according to material properties and/or application requirements and is custom configured to sew specifically using customers' unique material and thread. Tension settings, eccentrics, and cutter placement are all adjusted to ensure that the customer receives a unique version of the ActiveSeam that is specific to their garment and application.
The NEW MB-4DFO utilizes Merrow's unique barrel cam architecture and curved needles to sew more precisely and consistently than other sewing machines. Because the MB-4DFO sews with two needles, it has the versatility to sew three different stitches and with either two or three threads. The MB-4DFO is hand-built in the USA and specially adjusted by Konrad Busche GmbH,  all parts are integrally designed to ensure both stitch superiority and machine durability.